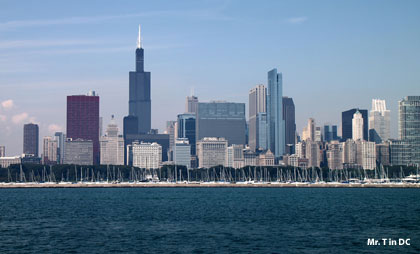 Illinois Governor Pat Quinn signed a law August 17 requiring power utilities to get 6 percent of their energy from solar in 2015 and every year thereafter.
The law takes effect immediately. It strengthens Illinois' Renewable Portfolio Standard (RPS), because electric utilities in Illinois will now have to add more solar power sources to their mix sooner. The old RPS required electric utilities to get 0.5 percent of their power from solar by 2015; the new law moves that benchmark up to 2012, followed by 1.5 percent in 2013, and then doubles the percentage every year after that, ending with 6 percent solar by 2015.
As a result, the state's two utilities--Commonwealth Edison and Ameren—will be looking to purchase lots of solar power from now on. The solar ramp-up could create about 5,000 solar power jobs, Quinn said.
ReChargeNews noted that Quinn also announced a $4 million federal grant had been awarded to Rockford Solar Partners to build an initial 28 megawatts of capacity at a planned 62 megawatt solar electric generating plant in Rockford.
The Rockford Solar Project will generate enough electricity to power more than 10,000 homes and reduce carbon dioxide emissions at a rate of 113,000 tons annually, equivalent to the emissions from nearly 20,000 cars. The Project will significantly help electricity suppliers achieve the required 0.5% solar target by 2012.
With the state's new emphasis on solar, now is the time to explore an Illinois commercial solar panel installation. Whether you want to build a solar farm or something smaller, give DASolar a call or submit our online form to get a free solar evaluation from a local, certified Illinois solar installer. Generous federal and Illinois energy tax credits exist to help defray the cost.
Most states have RPS laws and about 11 specify requirements for electricity generated from solar. In general, Renewable Portfolio Standards require a certain percentage of a state's energy mix come from renewable sources (including wind, solar, biomass, etc).
Quinn also signed another law giving people living in homeowners' associations the right to install solar panels if they follow certain guidelines. Now Illinois homeowners have more choices. We can help you with any type of Illinois solar panel installation. Contact us to see how!
(Photo from Mr. T in DC's photostream)