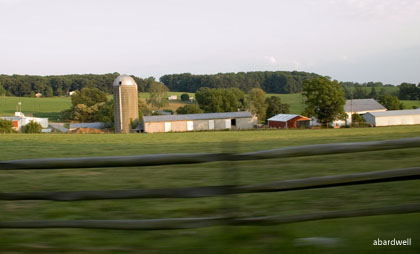 A few weeks ago I wrote about the new solar farm at NASCAR's Pocono Raceway. Now I'm going to
highlight another Pennsylvania company turning to solar power, as well as two farms that have gone solar.
Crayon maker Crayola put its 15-acre solar farm into service August 5 at its Forks Township factory in eastern Pennsylvania. The solar farm contains 26,200 solar panels and will provide about 33 percent of the company's energy needs. The two companies that installed the solar farm will sell the solar-generated electricity to Crayola at a fixed price for 25 years.
Meanwhile, in Franklin County near the state's southern border, two actual farms have gone solar: The Burkholder dairy farm in St. Thomas Township, and the Shank poultry farm in Guilford Township. In both cases, solar electric panels were installed on the roofs of farm buildings.
Farmers often have huge electric bills; Roy Shank's is $40,000 per year, but his 300-foot solar array should pay for itself in six years. Mark Burkholder's 24.1 kilowatt system could pay for itself in five years.
In the article on PublicOpinionOnline.com, both farmers noted that federal and state solar tax credits and grants played an essential role in making the solar panels affordable.
If you have a Pennsylvania business or a farm and you're thinking about going solar, contact the solar experts at DASolar.com today. Our local, certified solar installers can provide a free solar estimate for a commercial solar installation. We handle various types of commercial jobs, from helping to offset the everyday energy requirements of a business, to a for-profit commercial solar farm covering many acres of land.
There seems to be a small trend in Pennsylvania, with Pocono Raceway, Crayola and some small farmers all going solar. Find out if solar is right for your business or farm!
(Photo from abardwell's photostream)