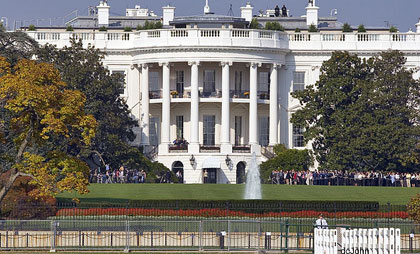 A group of pro-solar people are returning a solar panel to the White House tomorrow, September 10, and hope to convince President Obama to Put Solar on the White House roof.
Author and 350.org founder Bill McKibben and some students and staff from Unity College in Maine organized the Put Solar On the White House road trip, and have spent the last 3 days driving the panel from Maine to Washington, D.C. This solar panel was one of a group of panels President Jimmy Carter put on the White House back in 1979. Seven years later, the Reagan administration removed the panels. Unity College rescued them from government storage and installed them on its cafeteria roof, where they've been working fine.
Here at DASolar, we urge the president to put this solar panel—and many more—on to the White House roof. Doing so would send a clear message of support for renewable energy and would be an act of leading by example. Solar power is on the rise in America, but there's a lot more room for growth.
We have come quite a ways with solar. In 2009, U.S. residential solar photovoltaic capacity doubled and total U.S. solar electric capacity--including the concentrating solar power plants--passed 2,000 megawatts, enough to power more than 350,000 homes . Solar thermal capacity in America is more than 24,000 megawatts (thermal). (Solar Energy Industries Association, '2009 Solar Industry Year in Review')
As we've documented in this blog, companies and farmers have started to install more "solar farms"—huge groups of hundreds or thousands of solar panels, because solar panels are an excellent investment and power companies are willing to pay people to generate solar power.
The federal government has already given American property owners and corporations a huge signal to embrace renewable energy, including solar: The largest energy tax credits ever. You can install solar and small-scale wind now for a lot less than in recent years.
If you're thinking about putting a solar farm on your property, or want to investigate a commercial solar panel installation or home wind power installation, contact us by filling out the online form for a free estimate. One of our local, certified pro installers will contact you to determine your needs and options. We can guide you through the cost analysis and energy tax credit paperwork.
Watch and see if the White House accepts the solar panel on September 10, but even if they don't, you can make a difference by adding solar power or solar hot water to one of your properties. DASolar can help you make it happen; ask us about it!
(Photo from dcJohn's photostream)