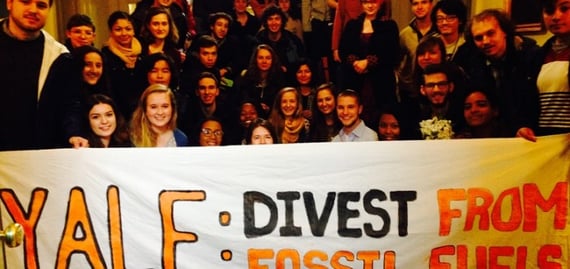 Students Calling for Divestment
A phenomenon is sweeping university campuses across the country: students are organizing to demand their schools divest from fossil fuels.
Recent divestment actions:
48 students launched a sit-in at Yale University to demand their administration divest from fossil fuels -- 19 were arrested for refusing to leave the building.
Students at CU Boulder held a three day tent "occupation" on the quad in anticipation of the Board of Regent's divestment vote
Harvard students have continually blockaded Harvard's administrative building.
At the University of Mary Washington, a 21-day sit in ensued resulting in arrests by school officials
At Swathmore, activists have been blocking administration buildings for weeks demanding that their schools stand on the right side of history.
Stanford University agreed last year not to make direct investments in coal-mining companies but kept oil and natural gas holdings in its $18 billion endowment.
Syracuse announced it would prohibit direct investment of its $1.2 billion endowment in publicly traded companies whose primary business is fossil fuel extraction.
Syracuse University is being lauded as the biggest victory in the fossil fuel divestment movement.
The national organization, 350.org, is helping provide support to campuses where students want to push for divestment. Learn more about divestment in your community
Install solar and help support clean energy infrastructure.