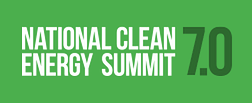 National Clean Energy Summit 7.0
I attended the National Clean Energy Summit in Las Vegas last week. It was a platform for Hillary Clinton, Harry Reid, John Podesta and a host of renewable energy business leaders to advance the clean energy agenda.
Hillary Clinton knows energy
Hillary Clinton was exemplary as the keynote speaker delivering a comprehensive speech about America's need for global leadership in renewable energy. The former Secretary of State's knowledge of energy issues was clearly evident in the subsequent interview conducted by John Podesta. She discussed her experience leading the State Department, visiting 112 countries, and her decision to create a new Bureau of Energy Resources to highlight the importance of energy within the agency. Her knowledge of energy, particularly clean energy, should easily set her apart from her opponents in the 2016 election.
Nevada gets Tesla battery factory
Nevada's winning bid for Tesla's new 5 Billion dollar battery factory set the tone for the Las Vegas based conference. Harry Reid, Senate majority leader and Nevada native, made the announcement. The factory is expected to provide Nevadans with more than 6,000 jobs and stimulate the economy by more than 100 Billion dollars. Nevada is home to the countries only Lithium mine which is the primary raw material for the type of lithium-ion batteries that will be produced. Nevada is also #3 in per capita production of renewable energy in the US with large solar, wind and geothermal installations.