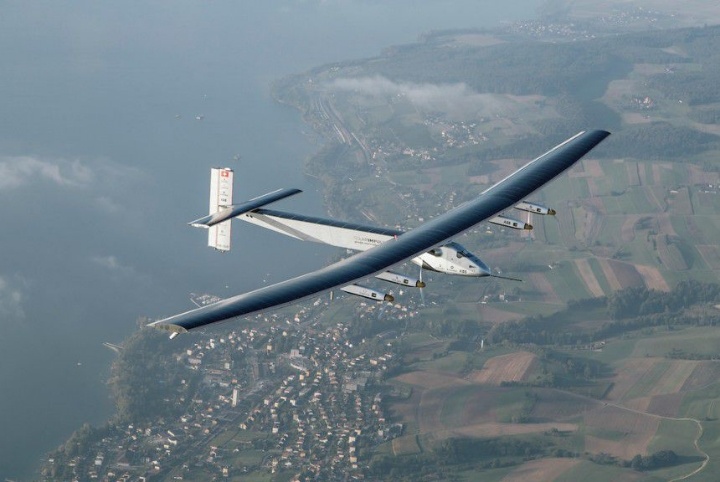 Pioneering Spirit Like the Wright Brothers
Solar powered flight is not currently scalable for widespread, commercial purposes. And wont be anytime soon. But the writing is on the wall. Much like the Wright Brothers, with a pioneering spirit, increasingly powerful technology, and an unwavering commitment to fulfilling the vision - solar powered commercial flights will one day be a reality.
Planes Burn Massive Carbon
Today, the aviation industry burns the most carbon per passenger of any mode of mass-transport and, despite efforts to limit emissions, remains the fastest growing source of greenhouse gases. The sector is identified by the UK's committee on climate change as the toughest major emissions source to decarbonise.
So, the fact that Swiss explorers Bertrand Piccard and André Borschberg are so far proving successful at an around the world flight ran on solar exclusively is a really big deal. The Solar Impulse, powered by
17,000
solar cells, is the first airplane of perpetual endurance, able to fly day and night without a drop of fuel. By attempting the first Round-The-World solar flight, Piccard and Borschberg will demonstrate that clean technologies and renewable energies could change the world.
The Journey of the Solar Impulse 2
The Round-The-World flight started from Abu Dhabi, on March 9. The route includes stop-overs in Oman, India, Myanmar and China. After their recent success flying across the Pacific Ocean via Hawaii, considered the most difficult leg of the trip, the SI2 will soon be flying across the U.S.A. and over the Atlantic Ocean, heading back to Abu Dhabi.
Borschberg said the success of the Solar Impulse project, which has already become the first solar-powered plane to fly through the night and the first to fly between two continents, must be seen as a primitive step toward a zero-carbon jumbo.
"Currently, an aircraft entirely covered in solar cells would not be able to generate enough power to enable it to fly. The Solar Impulse is only able to fly using solar power because it is specially constructed to be very light weight and with a huge wingspan."
A significant leap forward in solar cell technology is necessary for large-scale application, but in a nod to the enduring spirit of early 20th century aviation pioneers, we believe it will happen.
Interested in harnessing the power of solar? Get a free quote on solar installation for your home or commerical space.