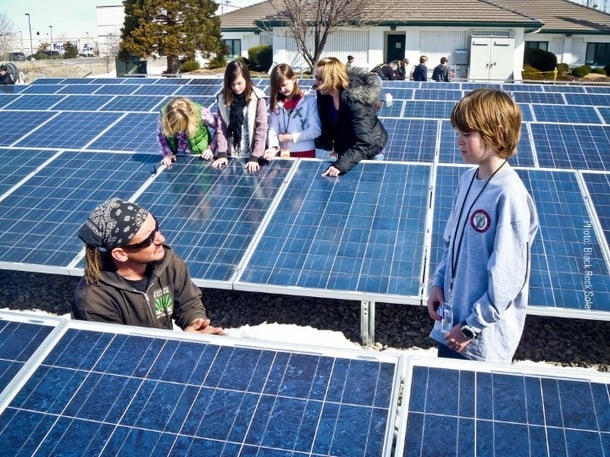 Solar a Win-Win for Public Schools
Amid increaasing budget cuts for public schools, solar installations at schools are reducing electricity bills, improving education, and making the retention of staff and resources an increasing possibility.
With large, flat roof tops and unused lots of vacant land, school properties are an ideal location for solar installations. School parking lots can also be put to productive use with solar PV canopies, which provide the added benefit of shading parked vehicles on sunny days.
And, although there is plenty of room for solar development in the US, over 3,700 systems are currently generating electricity on public and private K-12 schools.
Paying for Solar Systems
Panels can be purchased and owned by the district outright through a bond or other financing measures. Third-party ownership (TPO) financing is also an increasing trend. And purchase power agreements, where solar panels are installed by a solar company at no cost ­and the district then pays the company for all power generated, are also an option.
Several programs (including the Brian D. Robertson Memorial Solar Schools Fund) seek contributions and equipment donations in order to install PV systems on K-12 schools for demonstration and education purposes
Case Studies
Clovis Unified School District, located just northeast of Fresno, California, funded a 5.9 MW installation across 19 individual PV systems through a bond measure in 2012. These systems are expected to save the district approximately $2.7 million each year, freeing up space in the district's general fund that can be used for teacher training, new teaching materials, and facilities maintenance
In Central Phoenix, at Madison No. 1 Middle School, a large solar array was installed in the middle of campus. The structure will save the district more than $55,000 a year - and also creates a shaded, comfortable space for the students on hot AZ days.
And beyond the Southwest, a 39.5-kW system at Drury High School in North Adams, Massachusetts has saved the school over $16,500 since it was placed in service in the summer of 2011.
School Control
Schools applaud solar installations for many reasons: it gives a school control over our budget, cuts costs, and, perhaps most importantly, provides teachers with a unique opportunity to teach concepts in science, technology, engineering, and mathematics (STEM).
Interested in installing solar on your home? Get a free quote today