Solar development is spreading throughout the United States as PV costs fall and utilities rush to take advantage of federal subsidies for solar, which could expire at the end of 2016 if Congress fails to renew them.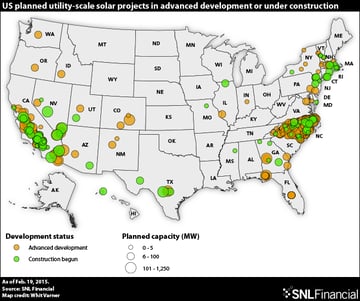 And as Congress debates the fate of solar subsidies, known as the solar investment tax credit, significant utility-scale solar development and construction is forecasted over the next two years (and then possibly leveling off if subsidies are cut.)
While California remains the epicenter of solar development, according to a recent SNL Energy Release, surprisingly, the biggest flurry of recent solar development is ... North Carolina! While about 3.8 GW of utility-scale solar power production capacity are under development in California, North Carolina has nearly 4 GW of solar under development.
One reason North Carolina is leading in solar is the state's renewable energy portfolio standard, which requires major utilities to get 12.5 percent of their electricity from renewable sources by 2021.
Other eastern states where solar is rapidly developing include Massachusetts, New York, New Jersey, and Georgia.
The trend is occurring as the solar industry in the U.S. is coming off one of its best years ever in 2014. The number of solar installations jumped about 140 percent between 2013 and 2014 nationwide, SNL Energy data show. More than 3.7 gigawatts (GW) of solar power capacity were installed across the U.S. in 2014, which closed out with more than 10 GW of utility-scale solar farms in operation, enough to power more than 2 million homes.
SNL Energy data show that more than 19 gigawatts of utility-scale solar currently in development nationwide is expected to become operational before tax credit expires.