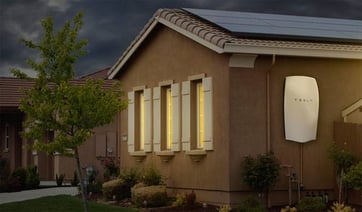 Tesla introducing renewable energy storage solution
Tesla Motors will introduce a lithium-ion battery that can store excess energy from solar panels. These batteries will help clear a huge hurdle for ramping up renewables: what to do when the sun isn't shining or the wind isn't blowing? This is huge news for solar development!
The lithium-ion batteries will come from the gigafactory currently being built in Nevada. The battery packs are slated for the Tesla Model 3 compact electric car (which is expected to launch two to four years from now) and, when scaled up, for home and commercial storage needs.
For homeowners, Tesla will introduce "The Powerwall" system offering 10 kWh of storage. It is complemented by a commercial system, "The Powerpack" offering 100 kWh storage. 100 such units will form a 10 megawatt hour storage unit that can be used on the scale of small electricity grids.

What's possible with energy storage?
Whole communities could build micro-grid power supply systems around the 10 MWh energy storage system that could then be fed by renewable energy generation (wind power or rooftop solar power).
According to Tesla, a residential system plus storage translates into delivered energy at around 6 cents per kWh – a price cheaper than coal-fired power delivered through the conventional grid.
The strong demand for energy storage will allow Tesla to immediately ramp up production. This announcement is bringing significant attention to Tesla batteries—not to mention investment.
The future is bright for energy storage.