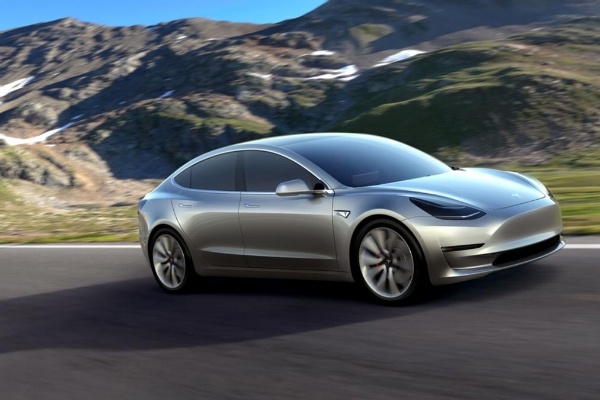 Tesla Model 3
The Tesla Model 3 won't be available until the end of 2017. And, to date, only the first phase of the car has been unveiled (which focused mostly on its exterior design as well as some technical details). But neither of these factors are keeping customers from embracing Tesla's first true mass-market electric car.
Close to 400,000 reservations (at $1000 each) have already been placed.
With a price tag of $35,000 before incentives and a range of 200 miles or more, the Model 3 is proving there is incredible momentum in the US market for renewables and electrification.
Sight unseen, why would consumers take such a risk? Some factors include:
Trust in the Product
Accolades abound for Tesla. It's luxury sedan, the Model S, received Consumer Reports highest ever rating (99/100), "Most Loved Car" award from AAA, "Best Invention of the Year" from Time, and "Most Important Car Ever Tested" from Top Gear.
The Model 3 will undoubtedly receive similar praise as it enters the mass market. Notable features of the car include: incredible safety features, cutting-edge technology (including updates on nearest charging stations, automatic dashboard interface updates, and autopilot hardware), impeccable customer service, notable acceleration (0 to 60 in 6 seconds), significant range (CEO Elon Musk announced they are doubling the number of superchargers worldwide and quadrupling the number of destination chargers) and supercharging capabilities. And, of course, no gas, and no emissions.
According to Green Car Reports, "Model 3 sales are targeted at 500,000 per year by 2020—fully 10 times the production rate of the $75,000-and-up Tesla Model S."
Transition our Energy System
According to Union of Concerned Scientists, "Collectively, cars and trucks account for nearly one-fifth of all U.S. emissions, emitting around 24 pounds of carbon dioxide and other global-warming gases for every gallon of gas. Electric cars and trucks use electricity as fuel, producing fewer emissions than their conventional counterparts. When the electricity comes from renewable sources, all-electric vehicles produce zero emissions to drive."
A report published by the National Resource Defense Council found that, "If 60 percent of U.S. light vehicles were powered by the electric grid, carbon emissions from the transportation sector would drop by one–third. This is equivalent to taking 82 million conventionally-powered cars – and the pollution they produce – off our roads."
Tax Credit
The "Plug-In Electric Drive Vehicle Credit" was introduced in 2009 to encourage the adoption of electric vehicles within the United States. The IRS offers a $7,500 federal tax credit to the first 200,000 cars a manufacturer sells. Model 3 reservations have already exceeded this threshold, but even though not all consumers will get the federal credit, other state-driven incentives do exist. Tesla lists state incentives here.
Look into renewable energy to fight climate change at www.dasolar.com.