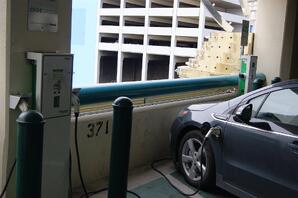 Even with oil at its lowest price in five years, cheap oil can't stop the growth of electric vehicles - and there are a number of reasons why:
Early adopters - The price of oil is not the deciding factor for early adopters of plug in technology. Early adopters are willing to pay a premium to be on the leading edge; their buying decisions often inspire and influence others to follow.
Environmental concerns – Finding new oil fields is becoming increasingly difficult, expensive and devastating to the environment (offshore drilling, Arctic drilling, pipeline construction). Burning oil causes air, water and environmental pollution and is a primary driver of climate change. Environmental concerns and government regulations will help lead the way for clean, green electric vehicles.
Interest in U.S. energy security – A clean energy grid run on wind and solar that can power your vehicle? It doesn't get any safer or more secure than that.
Plug in driving qualities - Electric cars are quieter, smoother, calmer and provide maximum torque from a standstill -- these are qualities which appeal greatly to drivers once they get behind the wheel.
A wide array of incentives - From tax credits + purchase rebates to carpool-lane access, government support for electric vehicles is growing.
Inexpensive electricity - Lower gasoline prices, even 40% lower, cannot compare to recharging a plug-in hybrid or battery electric vehicle with super-inexpensive electricity (especially when generated from your own residential solar or wind installations).
Policy momentum is building in support of zero-emission vehicles. In October 2013, eight states gave EVs a big boost by signing a Memorandum of Understanding on zero-emission vehicles (ZEVs) with the goal of putting 3.3 million electric and fuel cell cars on the road by 2025. Together, these states (California, Connecticut, Maryland, Massachusetts, New York, Oregon, Rhode Island, and Vermont) account for about a quarter of the auto market, so their commitment is significant.
Gas prices will rise again. It's just a matter of time.
While some critics say low gas prices will kill electric car sales, in 2014, electric vehicles such as the Nissan Leaf and Tesla Model S saw a 30% increase in sales! It is clear that the cheap gas can't kill the electric car momentum.